If you're a Doc Chey's regular, chances are, you've been greeted by this warm smiling face many times over the past 12 years.
We are so incredibly thankful to have Melanie Vaughn as a core Doc Chey's team member & HomeGrown partner.  She does it all, always goes the extra mile and really is the glue that holds us all together.
You'll often find her in the Doc Chey's dining room or kitchen managing operations with her signature high-energy positive aura, or at our special charitable events like Breakfast with Santa, proudly wearing her Christmas kitty chef pants and cheerily announcing Santa's arrival to all the little children. She is so good that we often worry that Santa will recruit her as his head North Pole elf!
Mel is one of those special people who is truly beautiful inside and out.  She exudes the "warm fuzzies" and is easy to become an instant lifetime friend to anyone or any creature. When Mel isn't busy coming to the rescue at the restaurant, she's rescuing animals…like a little squirrel who was trapped inside her wall. Not only did she recently adopt a feral kitten, but she made sure that the too-old-to-be-domesticated mother cat was spayed & had a cat house to keep her warm during the winter. Can't we all be a little bit more like Mel???
Here's a quick Q&A to help you get to know Mel better…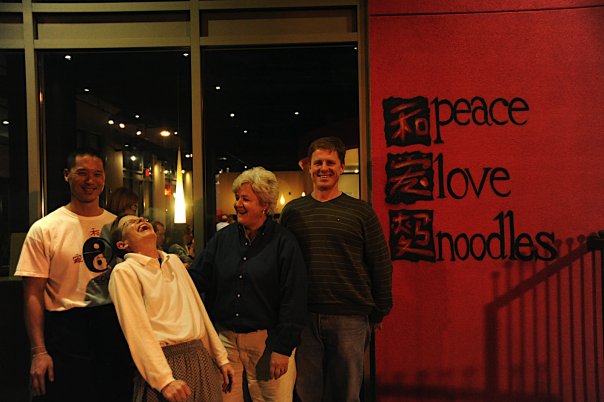 Tell us about yourself.
I'm originally from Texas but have lived in Atlanta for over 40 years.  I went to North Georgia State University and have worked in the hospitality industry for over 30 years. I'm married and live in the Old Fourth Ward. I am most often recognized by guests as the one who ran the St. Charles Deli in the Highlands for several years.
Funniest thing you've witnessed at Doc Chey's:
Hands-down…Rich Chey dressed in a sumo wrestler suit.
What do you like to do when you're not working?
I spend a good amount of time at work, but when I'm not there, I enjoy spending time with my mother, gardening and travel.  I love Key West and New Orleans.
What is one thing that most people do not know about you?
I write silly little songs. Ask and I'll sing "These Hands Are Made for Woking".
What do you love about working for Doc Chey's?
We have some really great people come through our doors. I love our customers and the friends I've made with them through my years of work at Doc's.  I've watched their kids grow up and shared in their families lives.  I also have had the pleasure of doing the same with some of our long-term employees.  Again, some of the best people around.
Favorite Doc Chey's menu item:
I love the Chinese Chicken Soup, warm and yummy.
Favorite charitable organization:
I have three: Furkids, Toolbank and GA Ovarian Cancer Alliance.
…………………………………………………………………………………………….
The next time you see Mel, be sure to ask her to sing one of her hit singles like "These Hands Are Made for Woking" or "Secret Asian Man".