We proudly serve Rishi teas because their commitment to sustainable farming, organic tea & fair trade practices help support artisan tea producers throughout the world through fair prices, direct trade, community development and environmental stewardship. All teas are $3/pot.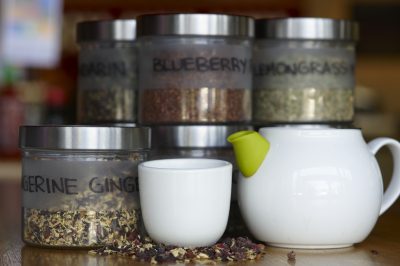 Masala Chai
an organic blend of classic black tea layered with aromatic, traditional organic
Indian masala spices (ginger root, cinnamon, cardamom, black pepper, cloves).
strong, full-bodied, spicy.
Jasmine
organic, free trade green tea scented with fragrant jasmine blossoms. most popular
flower-scented tea in East Asia and the perfect digestif tea.
Yuzu Peach Green
organic blend of green tea, fruits and spices (peaches, yuzu, ginger root, quince,
lemongrass, essential orange oil). mildly caffeinated. succulent, floral, quenching.
Blueberry Hibiscus
organic caffeine-free herbal blend (blueberries, hibiscus flowers, rooibos,
schizandra berries, elderberries, currants). vibrant, refreshing, tart.
Turmeric Ginger
organic herbal blend (ginger root, turmeric root, licorice root, lemongrass, orange
peel, lemon peel, essential orange & lemon oils) promoting longevity,
stamina & balance. spicy, zesty, citrus.
Tangerine Ginger
bold-flavored organic vitality tonic made from a combination of roots, fruits
and herbs (organic hibiscus flowers, ginger root, rosehips, licorice root, orange
peel, schizandra berries, essential tangerine & orange oils). zesty, succulent, revitalizing.
Selection may vary.