It's official. The Atlanta City Council's approved list of projects for the $250 million Renew Atlanta Infrastructure Bond includes $600,000 to renovate Fire Station No. 19, located in the heart of Virginia-Highland.
Station 19 is Atlanta's oldest operating fire station and has been a local landmark for more than 90 years. The building is structurally sound but needs upgrades and repairs. Based on its age, it was slotted for replacement in 2016.
According to Va-Hi resident Dr. Catherine Lewis, a historian at Kennesaw State University who leads the No. 19 Preservation Committee, there is "no risk of closure."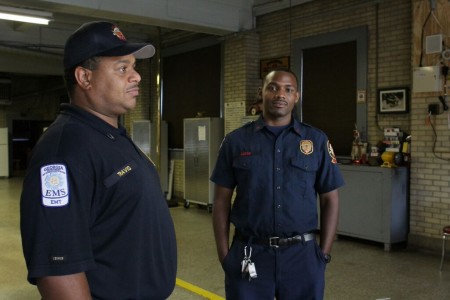 Atlanta Fire and Rescue personnel Lt. Travis and DeWitt Lucas at Fire Station No. 19
Atlanta Fire Department Sgt. Ian Allum's reaction was disbelief then relief. "When we started this project five years ago, I wasn't sure we could pull it off," he said. "I appreciate the community support through the years. Without the community, this couldn't have happened."
Allum is especially grateful to restaurateur Rich Chey who's dedication from the beginning included Santa breakfasts, dine outs and the Morningside Mile – most recently raising $17,000 in April.
That said, community support is still needed. With a renovation budget estimated closer to $800,000, many are pulling together to double the $100,000 already raised by year-end.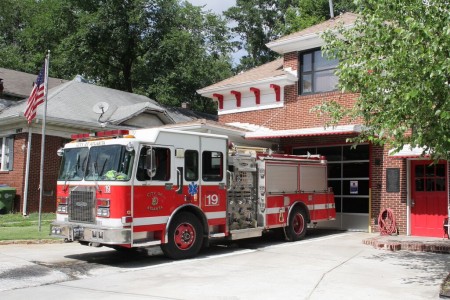 The No. 19 Preservation Committee and The Virginia-Highland Conservation League are raising funds through corporate asks, in-kind donations, and direct appeals. And if you're in town this July 4th, check out the Inaugural Virginia-Highland and Morningside Parent Association Independence Day Parade with all proceeds to benefit Station 19.
"Construction should start in 2016," Allum explained, once bids are finalized and the firefighters are temporarily placed elsewhere. Once refurbished, No. 19 should be in operation for another 50 years.
To learn more about the No. 19 Preservation Committee email Lewis at clewis1@kennesaw.edu. More information can be found and donations can be made to help renovate the fire station at vhfirecompany.com.
Article Published 7/1/15 in Atlanta INtown newspaper. By Clare S. Richie. Photos by Isadora Pennington.
———————————————————————————
Please save the date for our upcoming fire station 19 fundraisers: