Registration closes Thursday, March 29th – register online by midnight, or in-store at Highland Runners by 8pm.
100% OF RACE PROFITS BENEFIT STATION 19 RENOVATION FUND
Based on its age, Historic Virginia Highland station 19 is on the City of Atlanta's replacement list for 2016.  Please help us in our effort to raise the funds to repair the firehouse and keep it in service.
Located in the heart of the historic Virginia Highland neighborhood, the station has been a neighborhood landmark for more than 90 years, and is Atlanta's oldest continuously operating fire station.
Key constituents in the neighborhood are very concerned about the possible loss of this historic resource that is central to our safety and community life.
No. 19's building is in good structural condition and needs basic repairs.  A neighborhood committee — including architects, historians, preservationists, community leaders and contractors — has made recommendations to renovate and update the station in partnership with the Atlanta Fire Department and the City of Atlanta.
Saving the station requires community support.  To date, nearly $80,000 has been raised, which includes many of the funds that we've worked so hard to raise over the past 17 years through Breakfast with Santa and Morningside Mile.  We need an additional $220,000 to keep No. 19 operating in a safe and efficient manner for another 50 years.  Our goal is to raise those funds by December 2015.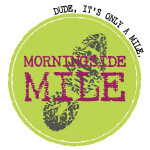 You can help by simply registering to run the March 29th Doc Chey's Morningside Mile race…and encouraging your friends, family and neighbors to join you.  All race profits will be donated to help save the station.  
We welcome all ages & all level runners/walkers.  Dude, it's only a mile!  Great swag, cash prizes & free SweetWater for runners.  Enjoy a post-race block party with our neighborhood fire-fighters at Doc Chey's Morningside – music, food, Noodle Eating Contest & family fun.
#SOS19  Please help spread the word.
The Morningside Mile is a 5th annual race hosted by Doc Chey's.  It has raised nearly $29,000 for station 19 to date.  HomeGrown Restaurant Concepts, parent company of Doc Chey's, Osteria 832 and Dragon Bowl, has raised over $100,000 for local fire stations over the past 17 years.